Here's an exciting release. Only 1,000 of these will be pressed and are available at
Vinyl Collective
:
200 on Rainbow Transparent vinyl
300 on Rainbow Milk vinyl
500 on Orange with Red speckles
I already ordered my "rainbow on transparent." If you want one I would suggest heading over there now to order one, because this will definitely sell out. Here's an excerpt about the band and album from Vinyl Collective:
Born after the unfortunate end (or hiatus) of Gatsbys American Dream, Kirk and Kyle began doing Kay Kay and His Weathered Underground. Although the band is still relatively new, they have released a live DVD, played Last Call with Carson Daly, and have gotten people talking all over the world. I got brought into the equation when their manager, Mike Kaminsky, dropped me a line about possibly doing the vinyl for their debut album. I asked to hear the songs and I was honestly floored. The songs are so well written, the instrumentation so vast, and the hooks just reach out and grab you. I usually cringe when someone compares a band to the Beatles, but this record sounds like what the Beatles may have sounded like had they recorded an album in 2007 in the Northwest.

This record defies classification, genre pigeonholing, or band comparisons. It is just fucking brilliant. I ask that no matter what kind of music you listen to, please give it a listen. I still can't believe that we are releasing this album (double LP and digital download card, no CDs).
Kay Kay and His Weathered Underground - Kay Kay and His Weathered Underground [2008/MP3/V2 (VBR)]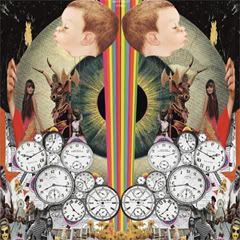 01.Into The Realm Of The Unknown
02.Hey Momma
03.Birds (On A Day Like Today)
04.Simon Courage Flees The Coop
05.Ol' Rum Davies
06.Bowie The Desert Pea
07.Santa Cruz Lined Pockets
08.Bloodstone Goddess
09.Cloud Country
10.Swan Ink
11.Night Of The Star Child's Funk
12.One Ought To See
13.All Alone
Download